TWO DAYS OFF! Supergraass in Berlin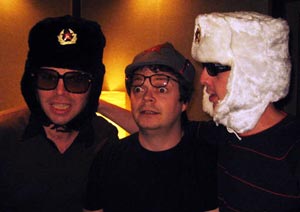 Fuck, I missed my flight! Arrived 4 hours late to start rehearsals... How very unprofessional!
Berlin! What a city, I wanna move here NOW! We worked at the Old Hansa Studio where Bowie did Low, Heroes, and Scary Monsters, Iggy did Lust for Life, and U2 did Achtung!
Quite an adventure. We recorded some very loud raw sounding tracks and lots of rolling around and laughing was done. Supergrass is the funniest band I've ever worked with. I love 'em! After a month in Berlin, we flew to LA and mixed 1/2 the LP at Seedy Underbelly Studios. We will finish mixing the rest in August.