Nick Cave and the Bad Seeds - Push The Sky Away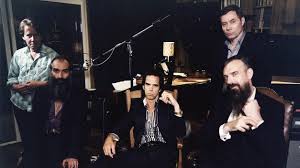 Out in the countryside near Melbourne Australia...

After spending a very loud evening side of stage on a farm in Meredith, watching GRINDERMAN do the last gig of their tour 
we traveled in a big Van with the band back to Melbourne.
The next morning Straight into Sing Sing Studios Melbourne with the Bad Seeds to throw some ideas around. Nick has some strories and poems
they Jam solidly for 3 days , later in the following year the best of these Jams later become the 
June 24 I fly to the south of France to continue that Bad Seeds Album 
This time the studio is La Fabrique , a HUGE Mill originally built for Napoleon to make unique  Blue uniformswith Red Trousers for his Troops... 
I thought it would be a good idea as the red would hide the blood, unfortunatly the Red also made them an easy target for the enemy.

Oh Dear ! 

The studio is one of the most stunning and elegant I've ever worked in called Le Fabrique  After Napoleon moved out it got turned in to one of the biggestl classical musicl libraries in the world housing more than 10,000 vinyl records.  These final records now surround the surrounds the control room and recording runs giving it an incredible feeling we started the alburnum in Melbourne and then refines some of the ideas and edited them down arm and then started at Fabrique we went there with the idea that it would take a long time been three weeks and after two weeks will pretty much finished the songs are many of the songs started off as poems or stories from neck are backed up with a loop of the Czar Luke from Warren and then we slowly but surely added a regimentation to create an amazing really Petrilli sound amazing sounding record I don't think there is another album quite like this one