Midnight Oil's Rob Hirst Takes Us Track By Track Through 'Flat Chat'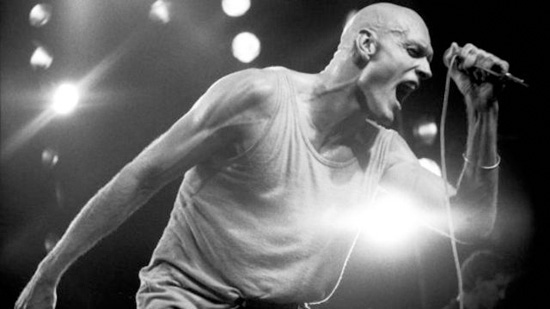 On their 30th anniversary and fresh from their induction into the ARIA Hall Of Fame, Midnight Oil have delivered their rockin' greatest with 'Flat Chat'. Read on as drummer Rob Hirst gives us the low-down on what really went on behind the scenes when creating each of the 18 high energy Oils classics, in this track-by-track 'Flat Chat' breakdown.
Only the Strong
Only the Strong was recorded by a very young and uber-keen Nick Launay at London's Townhouse Studio (the stone and glass room right down the back on the right). Actually, the song is made up of 5 furious takes hung up to dry on the control room wall, then surgically re-attached by the remarkable fingers of mad Dr Launay. The flanged cymbals and Pete's urgent, breathy vocals were added later, following a dodgy 'band-meeting' curry at Peshawar's Restaurant in Goldhawk Rd, Shepherd's Bush. The words were scribbled at a similarly desperate moment, a few months earlier, in my Chinese wallpaper decorated room at the Diplomat Hotel in Melbourne's St Kilda, straight after I'd demolished a large jar of artichoke hearts purchased from the deli on the corner. As Harry Vanda said when first coming across us, amazed: 'Vot? A band zat eats!' And we did. A band marches on its stomach.
Progress
A Jim Moginie demo-turned-Midnight Oil song. Tracked by the controversial Francois 'call me Frank' Kevorkian from Noo Yawk, swaying alarmingly from incurable jet-lag behind the desk at Paradise Studio at Woolloomooloo. Pete relished this song, still does: you can tell by the delicious vocal delivery. The band's zeitgeist at the time was to 'just get it down loud and live, so we can remind ourselves what we sound like' - a forgivable reaction to the 3 months-plus we'd spent writing, layering and mixing 48 tracks of Red Sails songs in Japan the previous year. 'Progress' became a crowd favourite, with full houses of young men without shirts springing up and down in unison to Jim's killer riff.
Don't Wanna be the One
I can still detect the pungent smell of East Sussex horse-shit whenever I hear this song. It was recorded by Brit legend Glyn Johns in the studio/barn on his property - secretly, so that the nearby Warnham townsfolk wouldn't discover that Glyn was operating a business on his semi-rural estate ('you must be from that Orstraylian group staying on Glyn's farm', said one of the locals, the minute we walked into the pub). The song was actually a 'left-over' from Head Injuries, and perhaps just as well, 'cos 'Don't Wanna' (along with 'Lucky Country', 'Brave Faces' and 'Armistice Day') became one of the pivotal songs on Place without a Postcard. Alas, A & M records rejected the album anyway, despite Glyn's loyalty and generosity. So we raised a collective finger in their general direction, stuffed the shards of our remaining dignity into our Gladstone bags, grabbed our brand new vintage guitars and went home.
Dreamworld
Giffo, who was always good with his hands, built a bush-home-in-suburbia made of recycled timber, facing west through the angophoras towards Sydney's Middle Harbour. Dreamworld was workshopped on the porch of his nearby shed, just across a buffalo grass lawn and above a natural rock waterfall. The song sounded right in this leafy, summer hideaway, especially Jim's chimey intro theme and the 'end, end' b/vox in the choruses. The 'farewell to the Norfolk Island pines' line was inspired by the strip of once jolly green giants along Manly's beachfront, slowly dying due to toxic blowback from the sewage plant - a problem since solved by the local 'Residents and Friends', who pushed for the construction of a deep ocean outfall, and then replaced the sad old pines with happy, healthy new ones.
Hercules
Another feisty number from the Species Deceases EP, and a good argument for the supremacy of groups over solo acts. The band amped up Jim's demo, as was often the way, and I came up with the chorus lyrics literally minutes before Pete committed them to tape (yes, good ol' 2 inch Ampex tape). Like 'Progress', this song lingered in the live set for years, either opening gigs with a concerted, life-threatening, sonic assault, or closing them, with Pete dedicating the song to Greenpeace. Pete would then charge through the audience with crewmen Messieurs Lippold and Kerr in hot pursuit, his sweat flying freely over the front few rows, pausing only to shout some life-advice into the shell-like of a few muscle-bound meatheads. Meanwhile Martin roamed back and forwards on the stage like a caged Sumatran tiger, and drumsticks wheeled perilously (and occasionally litigiously) towards the Gods. Cathartic.
Read About It
I sang the words and melody of this one to Jim in the sunny lounge-room of his first home in Putney, down by the Parramatta River. Jim strummed along, adding the crunchy riff which, propelled by a relentless cowbell, later anchored the song to solid rock. Beautifully recorded by Nick Launay, who used the Townhouse talkback mic to make the drums sound HUGE (it was the 80's, after all). Giffo added the blue-collar grunt, hammering his sweat-soaked, Gaffer-taped Fender Precision with hands like leather oven mits. The song became the subject of a filmclip shot in the Jenolan Caves, with Pete wearing his trademark 'Read About It' overalls, and the rest of us miming heroically in various shades of puce.
Section 5 (Bus to Bondi)
The Head Injuries sessions got later and later, until we were recording takes at dawn. This was one of them. I was fast asleep and dreaming about how best to play my part, when I was rudely awoken by producer Les Karski: 'Randolph, we need you to do some skin beating', he said. We all played 'Bondi' in one hallucinogenic burst of energy, with Andrew 'Bear' James executing those unlikely end-of-chorus bass runs, and Pete spitting out his classic Oz-centric lyrics. Meanwhile, Les drew comic sketches of us from the other side of the glass. 'You're almost, but not quite, more than I deserve', he quipped, as the dust settled and our hearing gradually returned.
Cold Cold Change
Another song recorded at Trafalgar in Sydney, with Les producing and Peter Walker engineering. This song had already been road-tested and pronounced worthy, having survived a year's worth of pubs and clubs, including many memorable, bacterial nights at The Stage Door Tavern, Frenchs and the Civic Hotel. Written with Jim on the back steps of my share-household at Albert Ave, Chatswood, with torn, wet stage clothes and last night's speakers drying on the south-leaning Hills Hoist, casting shadows over us as we played and sang. In retrospect, AC/DC and The Angels were obviously on our minds.
Redneck Wonderland
Tracked, mixed and 'given a little more weight' by the wonderful Warne Livesey, this was the big one that got away. Jim quietly wrote the song, basing it around some provocative - and these days probably seditious - Yarra River graffiti that we walked past every day on our way to and from Sing Sing (the studio, not the prison). Then in the final days of recording the album, he delivered a new-born demo so complete, so BIG!, we could have packed it off to school the next day. A case of the last horse out of the gate but the best. Deserved to be huge! (and my wife Lesley's favourite, she asked me to add).
Tell me the Truth
Recorded between - and barely under - parallel flightpaths at Megaphon Studio in Sydney's industrial St Peters, this 4-minute slice of bile sounds like we were trying to compete with the roar of the jets, while passively inhaling glue from the furniture factory downstairs. The choruses explode like The Who, the verses groove like The Hunners, and the middle 8 feels like you're riding The Rotor at Luna Park, at that instant when the floor disappears. Once again, Nick Launay had his scalpel out, fearlessly taping together bits of Takes 1 and 2 (ah Pro-Tools, you just don't thrill). The result was an incendiary version of Jim's _ original, with Bones adding his predictable note-perfect, enviably enunciated, trouser-lifted backing vocals.
Stand in Line
Like many Midnight Oil songs, this mini-epic was constructed around a difficult, convoluted bass riff - the kind that made Bear very pleased, Giffo very determined, and Bonesy very quiet. Terrific rappy lead vocal/lyric, and a great example of band collaboration. And how about that blood-curdling, hellhound-on-your-trail scream near the end! - captured on tape at the exact moment that our manager Gary Morris told Pete that we were $20K in debt to the ANZ Bank in Chatswood. It must surely rank alongside the best angst-venting howls ever recorded. Stand in Line became a musical Stegasaurus, even scarier in the flesh. (NB: 'Nobody gives a fuck' was increasingly dropped live, in favour of the flaccid, somewhat forlorn 'nobody's got a hope').
Pictures
Woodchips meet white noise in this cheerful musical adaptation of the Texas Chainsaw Massacre. Loud, brash and fast - so much so that it even woke up producer Frank Kevorkian, briefly, before he nodded off again on the control room's leather lounge, still muttering 'I want that sound!' A song guaranteed to scare the living daylights out of every endangered creature on earth. Species deceased.
Written in the Heart
I scribbled the words of this little battle hymn after devouring a 1978 Time Magazine from cover to cover. It sounds like it. Salvaged by two snarling amps on 11, and the defining guitar interplay between Martin and Jim. Pete also put in an Oscar-winning performance, managing to deliver with a straight face an opening line like 'The godforsaken rifleman stands rigid at the bar', plus other assorted pimply, post-grad poppycock. Interesting walking bass line, too, via the party-frank fingers of da Bear. In spite of everything, 'Heart' worked well in front of both the pale, faux-punks of the Crystal Ballroom, and the sunburnt Bundy-fuelled beefcakes of the Gold Coast's Playroom.
Mosquito March
More superb guitar playing by riff-meisters Moginie and Rotsey on this one. Me, I loved it as soon as I heard it: 'Mozzie March' reminded me of Radio Birdman, the Atlantics, and...early Midnight Oil! We ran through the song a few times in the final 'open for business' hours of Sydney's legendary Festival Studios, high on bladder-aching coffee and the stench of the fishmarket, and in love with the grittiest old Neve console in town. Then we chose the first take anyway. It was recorded by Diesel & Dust and Blue Sky Mining producer Warne Livesey, a pop perfectionist who speaks softly and carries a big shtik. One of the best tracks, I reckon, on our final studio album, the over-rehearsed Capricornia - brilliant, bovine, barely available.
No Time for Games
Or 'Some Kids' as it should have been called all along. The song was tracked in the herbal hinterland behind Byron Bay, at the Music Farm -now a guest house and frangipani farm - another studio lost, another victim of digits, bytes and pirates. Hundreds of gigs followed, often kicked off by Some Kids' Vox-driven intro courtesy of a ever-moving Martin, and concluded by Jim's increasingly tortured, mega-extended outro soloing - featuring his trademark vertical take-off leaps and frantic pick-up and pedal switching. Meanwhile, the tricky 7/4 rhythm had the movers and shakers in the audience falling over each other, trying to find the 'one'. Happened to me more than once too. Tough, clean rock cohabitating with cute cautionary verses.
Best of Both Worlds
It's been told before but still worth another spin. The one in which my drumkit is set up in the men's bathroom on floor 3 of the JVC Victor Studios in Tokyo - much to the baffled amusement of engineers Shig and Yoshi - to get a loud, live drum sound. I'm then umbilically connected to the rest of the band and producer Nick Launay by headphones, and get halfway through the definitive take of 'Best of Both Worlds'. Then I'm interrupted by studio manager Hashiguchi-san, who bursts into the bathroom desperately waving his hands, signalling for me to cease and desist. But I can't just stop - after all, we're in the middle of THE take! So I plough on, risking a serious diplomatic rift in Australian/Japanese relations. When the song is secured, I'm soberly informed that an elderly National Treasure and his wife were attempting to capture pristine recordings of koto and shamisen in the studio downstairs, when my kit noise came thundering down the stairwell. As punishment, Hashiguchi-san's afternoon gifts of ice-u cream-u to the band are suspended for 48 hours.
Say your Prayers
Jim's song, written before East Timor's 2002 independence from Indonesia, first appeared on a benefit CD, Liberdade, in aid of our beleaguered northern neighbour. It appeared once again on the unsatisfying The Real Thing, which was anything but. 'Say your Prayers' rumbles along on a steamroller bass/drum feel - 'Redneck' with the handbrake on - and like 'Both Worlds' gains great mileage out of tough blasts of brass. There's a strong live version of this freedom song recorded at Wave Aid - which, appropriately, was our last show together - in which Jim plays his distinctive blowfly-in-the-speakerbox Dobro. Viva Timor Leste.
Run by Night
The lucky last hails from the Triassic Era of Oz Rock. It was our first minor hit - one of many - graciously played by 2SM and 3XY, and by the fledgling Double J in Sydney and Triple R in Melbourne (thanks Dorland). It was exciting to hear our first song being played on the radio, cranked up on my Mini Van's AM tuner; and for me, the airplay had the additional benefit of dampening the parental clamour to stop banging things and get a real job. It was recorded one stormy night at Albert's in King St by Double J's 'man in the van', Keith Walker. There's also an ancient filmclip of the band miming the song, shot in the beautiful, bulldozed Regent Theatre in George St, featuring five over-educated North Shore 'punks' in stovepipes and sneakers. Anyway, enough indulgent nostalgia, got to run.